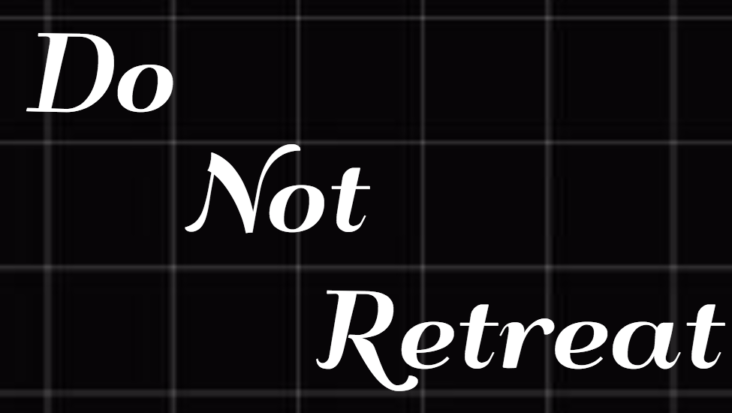 This morning I woke up hearing the same words I have heard for the last week, "Do not retreat!"  Over and over in my head and in my heart, I hear those words loud and clear and I know what they mean.  I don't believe that is just a word or message for me, but I feel that it is a message for many.
As I think back over my life, there have been many voices telling me to quit or to retreat.  Many of these voices have come from people placed in our lives during various seasons.  Eventually, those people's voices were allowed into my thoughts and began to intermingle with the Truth that I know.  Trust me, there is definitely power in the tongue.  It can bring life or death.  Be careful to who you listen to.
When I was in high school, I suffered greatly with migraines.  They plagued a majority of my days that kept me hidden away from the daily routines of life, including school.  I can remember people telling me that I should just drop out of school.  The very fact of not "having" to go would reduce the burden greatly.  However, I did not retreat.  Another time in my senior year of high school, my Guidance Counselor told me that I did not need to worry about getting prerequisites for college.  Her words were, "you are not college material."  Again, I did not retreat.  From 2004 to 2007, I was incredibly sick with incurable illnesses and the doctors said there was no cure, it was a life long sentence.  Guess what?  I did not retreat.  During that same time and due to the diseases, we were told of the dangers to conceive a child of our own, but we did not retreat.  Once we were in ministry, we were constantly reminded that our ministry can't make a big impact, it wasn't big enough.  We were told evangelism is dead and not a calling.  We were told to just work inside the church, because we could do more ministry there than we could ever do outside the church.  However, we did not retreat.  We almost did, but we didn't.  The voice of religion told us to do things certain ways, say things certain ways, act a certain way, but sorry, we aren't ones to conform to the ways of the world.  We will not retreat from pressing into God and His presence.  We know there is a greater call on our lives.  We want to see the sick healed, the bound delivered, people saved and all the gifts of the Spirit at work…not just talked about.  We want God's Truth preached and Jesus to be lifted up so ALL men are drawn unto Him.  We want more and we will not retreat!
Every time someone said no, I can distinctly recall a time of each instance that the Holy Spirit stirred something in us to turn directions.  He moved us into a place that we were reminded of what His Word said about us.  He allowed us to see another glimpse into the greater plan He has for our lives and the ministry He has given us.  He has always been there, leading and guiding.  We just have to wait and listen for His voice, His direction.  We have to stay in relationship with Him.  You have to stop listening to the nay sayers around you, including if that is your own internal voice or the murmuring voices telling you no. Let His voice, His Words speak louder than the things of this world.   Remember, the plan for your life is not defined by people's words about you, unless you give those words life to operate in your life.
We are told in Romans 8:11 that the same Spirit that raised Christ from the dead, lives inside of us.  You see, every time we didn't retreat, it wasn't because of who we are.  It's because of Who lives inside of us.  That's where our strength is, that's where our boldness comes from, and that's why we are persistent.  We know that in and of ourselves we can't accomplish what we know we are called for.
The plan for your life is not defined by people's words about you, unless you give those words life to operate in your life.
Even in this time in our lives, God has placed ministers in our lives through which we have been revived and refreshed by His word and His presence.  A new message for a new time of do not retreat.  As if it is a constant echoing in my spirit, being yelled from the mountain tops and echoing in the valleys, because when you are in the valley of decision you need to hear those words of "don't retreat."  We are so incredibly thankful for how God allows you to hear what you need to hear.  It's a new day for new doors.
In the beginning of this post, I wrote that I believed the message of "do not retreat" was not just for me.  I know there are people out there that are dealing with the feeling to just quit or give up.  They feel it's too hard, I can't do it, I might fail again, what's the point, because you have tried everything.  Do not retreat, do not give up on life, do not give on your kids, do not give up on your ministry, do not give up on your healing, do not give up on your miracle, do not give up on getting your peace, do not give up on getting your joy, do not give up on your spouse, and most importantly do not give up on God!!  Press into Him.  Listen, Jesus already did it all for us, but that doesn't mean we just sit back and do nothing.  God likes to see action.  It is through our actions that our faith is played out and we get to show God our level of hunger and desire for Him to move in our situations.  Watch your words and do not let your words and thoughts conform to what the world says about you or your situation.  When we retreat, we never get what God had planned for us, we just get what the world and the devil hoped for us.
Dear Heavenly Father, 
I thank you that as Yours, we have a Spirit living in us that is greater than that is in this world.  I thank you that because of that, we do not have to retreat.  We are victorious in Christ and are not defeated.  I pray that everyone reading this, a holy boldness rise up in them, that no matter what they face, no matter who in this world is telling them to quit the things that you have called them to do or that you have promised them it in Your word, they will not retreat in Jesus Name.  Rather, they will go forth, filled with faith, lacking doubt, firm and steady on Your word, knowing they are conquerors in Christ.  Every attack of Satan that is coming against their mind, body, family, marriage, kids, finances, job and ministry is cancelled now in the Name of Jesus Christ.  In Jesus name, I ask you to build them up, refresh them, restore them, heal them and anoint them to fight the good fight and not to ever retreat.  Thank you for Your presence, thank you for Your word, and thank you for what you are doing now in Your people.  We ask all of this in the Name of Jesus Christ Amen.