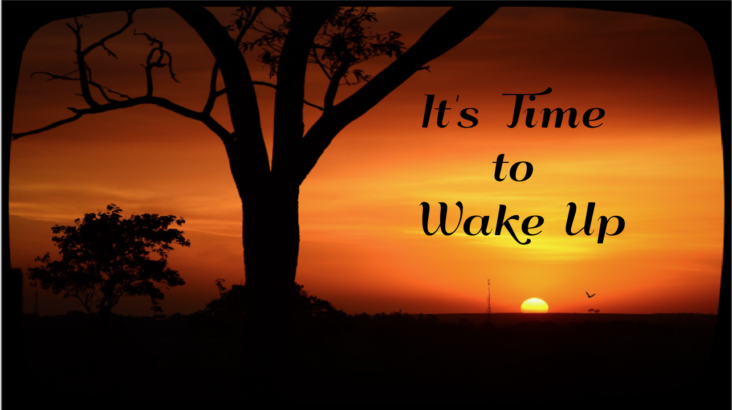 I was awaken early this morning out of a dream. I laid there for a bit talking to God about it and He began to show me meanings of parts of the dream. They did not come as a surprise, because they have been the same messages in my spirit for a while now. Finally, I could no longer just lay in bed and say that I'd write it down when I got up, but there was an urgency to do it now.
The dream took place at the outdoors of a big box store's parking lot and sidewalk. Phillip and I were walking out of the store when I turned around and saw a bunch of kids appear to be messing with another person. A person stood out to me in the crowd, as I know him. He was "pretend" kicking at whoever this other person was. I told Phillip we have to go over there and say something, because we just can let people treat another person like that. We have to tell them that's wrong and help the other person. So we walked over there and the closer we got, I began to see people sitting on benches watching, but doing nothing. I see other people just walking around a man that is laying on the ground. There is no urgency in people's faces or emotions. There is no concern or conviction to help or do something. Straight faces, flat affect…I've seen that look before, it was disturbing. I look over and on one of the benches is two other people that I know well, but they too, just sit and look. I ask them if anyone has called for help and if they knew what was wrong, but they said no. The man laid there with his eyes closed, with an apparatus to give him oxygen. Stretched out with his arms to his right and left, just laying of the cold concrete of the sidewalk. I looked at Phillip and said, we should pray for him, I wonder if that would be okay. However, as I said that the man's eyes began to open. He had blue eyes. Some of the people that were there showed some surprise in their faces, but it quickly faded. I got down on the sidewalk beside him and asked him if we could pray for him. He said, "yes, please do." So Phillip on one side and me on the other began to pray. I was praying for his healing, then I heard in my spirit to stop and ask him if he knew Jesus as his Lord and Savior. So I immediately stopped praying and looked at the man in his eyes and asked him that exact question. The blankness in his eyes turned into sadness, hurt, repent-fullness. Tears slowly began to come up and fill his eyes. He said, "I'm not from here, but I told God that when I got back home, I needed to work on that and take care of it." I said to him, "why wait, would you like to ask Jesus into your heart now and let him be your Lord and Savior now." The tears that had filled his eyes now began to flow down his face and with a voice speaking through the tears he said, "yes." So right there, I led him in a prayer of salvation. The man went back home saved and healed.
So here's the part of where I talked with God and he revealed to me these things:
There has been two words in my spirit for about a year now and honestly at some moments I just want to scream it from mountain tops. WAKE UP!!!! The church is sleeping. It is evident. Of course, not every single person is sleeping, but a large majority is. Look at the state of our households, nation, schools, youth, marriages, finances, workplaces, and even churches. We have lost order, the order in how God's word says things should be and flow in order. We are content with the liveliness of people's flesh in the sanctuary rather than seeking the true spirit of God to see his manifestation of how He pleases. We complain if someone is too "long winded." Therefore to appease the people we place timeframes on when we expect God to move in. We can for the most part sit in our churches and tell you at what minute what will happen. We have countdown clocks to tell us when service is to end. We have taught our children it is another place to play games rather that seek Him and wait on Him. And don't tell me that kids need games and play to learn about God for the majority of children's church. We visited a church this year and the children were hungry for God, there was preachers of all ages preaching real sermons, they took notes, encouraged to bring their Bibles, had hands laid on them, and laid hands on others, the kids prayed before service for 15-20 minutes for God to move and the Holy Spirit to be there…God moved in a mighty way and those children are soul winners, not ashamed of the Gospel. There is a distinct difference in those kids.
The church has to wake up!!! We have been given authority through Christ and most of the church don't even know what that means. All those people sitting around in that dream watching the man lay on the ground…most of those bystanders and on lookers were Christians. They should have prayed, called on the name of Jesus, declared God's Word over that man. But no, they didn't want to be embarrassed, what if he wasn't saved and they didn't want to offend anyone, and other's just didn't know or feel it would have made any difference. That's the problem, we are walking in a world that is seeking to please people and have stopped seeking to please God. Well guess what, the bible tells us in Hebrews 11:6, "But without faith it is impossible to please him: for he that comes to God must believe that he is, and that he is a rewarder of them that diligently seek him." Do you think those people sitting on the benches and walking past the man showed their faith in God? Did they diligently seek Him on the man's behalf in prayer? People, there is a world dying and if we don't wake up, not only will lose a good bit of the world, but we will lose a good bit of our very own families.
That look I told you earlier that I saw on the people's faces in the dream…the flat affect. I've seen it before in many if not most of the churches we have been in. If we have the living Holy Spirit inside of us and His Joy, then why is it so dead? We have to diligently seek him!!! I can assure you seeking him doesn't look dead or like a flat affect. So telling the church to wake up was the first message I have felt in my spirit and also what I saw again that needs to happen in that dream.
Next, was another message that I have felt in my spirit that most people don't acknowledge or just choose to ignore. When I was praying for that man's healing in the dream, I was impressed on a biblical principal based on the scripture Galatians 3:13, Christ redeemed us from the curse of the law by becoming a curse for us—for it is written, "Cursed is everyone who is hanged on a tree." That's why I stopped praying and then asked him about receiving Jesus as his Savior. You see, what was done on the cross broke the curse over those that receive Christ as their Savior. Blessings and promises of God's word belongs to the saved. It's part of their inheritance. Does that mean God can't choose to heal or protect a sinner? No, I believe He can. However, for all of the curse to be broken and to be able to live redeemed and free, you have to be His and He has to be your Lord and Savior.
I'm sure if we began to wake up and look with our spiritual eyes, we would see a lot of people laying on the cold concrete, lonely, sick, and barely hanging on to life with the assistance of oxygen. We have become so caught up of trying to be like the world, people pleasing, full of pride, sleeping ourselves away in the lull of the rhythm and motions by the rocking hands that direct us what to do and how life is supposed to be that we have missed it. We've stared so long as our busy schedules we have not seen the ones God has sent to us to minister with. We have sat in services and gave way to the clock and our plans rather the Holy Spirit, so we have grieved Him. We ask why more people aren't being healed? Seriously? You expect God to act on command, when you barely act in obedience? Some people only seek Him in the bad times and use Him as a fire escape, others only praise Him when all is well and life is "perfect." Most people's spiritual temperature is set to what their circumstances are. That's not how the Bible instructs us to be. We let the devil beat us up day in and day out. We don't pick up our swords and some don't even know what the sword is or that they have one to use. People are hungry and are searching for something to fill them. If the church doesn't wake up, trust me, the world will be glad to fill them with something that is temporal and not everlasting. While the church is sleeping, the thief will gladly steal. The curses that hold them in bondage will gladly tighten it's grips until it eventually steals, kills, or destroys all that God had in store for them. A sleeping church isn't a church that confronts the enemy head on to give back what is rightfully ours in Christ. A sleeping church misses the move of the Holy Spirit and therefore misses all that He brought to minister to them. A sleeping church will gain nothing, but missed opportunities for a Great God to do mighty things through them . We have to be awake, aware, diligently seeking him in our full belief and faith in Him, yielding to the Holy Spirit in obedience, carrying out the Great Commission of preaching the gospel, while being willing vessels.
Mark 13:35-36
"Therefore, be on the alert–for you do not know when the master of the house is coming, whether in the evening, at midnight, or when the rooster crows, or in the morning– in case he should come suddenly and find you asleep.
Luke 12:39-40
"But be sure of this, that if the head of the house had known at what hour the thief was coming, he would not have allowed his house to be broken into. "You too, be ready; for the Son of Man is coming at an hour that you do not expect."
Isaiah 56:10
His watchmen are blind, All of them know nothing. All of them are mute dogs unable to bark, Dreamers lying down, who love to slumber;
Acts 28:25-27
And when they did not agree with one another, they began leaving after Paul had spoken one parting word, "The Holy Spirit rightly spoke through Isaiah the prophet to your fathers, saying, 'GO TO THIS PEOPLE AND SAY, "YOU WILL KEEP ON HEARING, BUT WILL NOT UNDERSTAND; AND YOU WILL KEEP ON SEEING, BUT WILL NOT PERCEIVE; FOR THE HEART OF THIS PEOPLE HAS BECOME DULL, AND WITH THEIR EARS THEY SCARCELY HEAR, AND THEY HAVE CLOSED THEIR EYES; OTHERWISE THEY MIGHT SEE WITH THEIR EYES, AND HEAR WITH THEIR EARS, AND UNDERSTAND WITH THEIR HEART AND RETURN, AND I WOULD HEAL THEM."'
Isaiah 6:9-10
He said, "Go, and tell this people: 'Keep on listening, but do not perceive; Keep on looking, but do not understand.' "Render the hearts of this people insensitive, Their ears dull, And their eyes dim, Otherwise they might see with their eyes, Hear with their ears, Understand with their hearts, And return and be healed."
Romans 13:11-12
Do this, knowing the time, that it is already the hour for you to awaken from sleep; for now salvation is nearer to us than when we believed. The night is almost gone, and the day is near Therefore let us lay aside the deeds of darkness and put on the armor of light.
Revelation 3:2
'Wake up, and strengthen the things that remain, which were about to die; for I have not found your deeds completed in the sight of My God.
1 Thessalonians 5:6-8
so then let us not sleep as others do, but let us be alert and sober. For those who sleep do their sleeping at night, and those who get drunk get drunk at night. But since we are of the day, let us be sober, having put on the breastplate of faith and love, and as a helmet, the hope of salvation.
1 Peter 5:8
Be of sober spirit, be on the alert Your adversary, the devil, prowls around like a roaring lion, seeking someone to devour.
Psalm 80:18
Then we shall not turn back from You; Revive us, and we will call upon Your name.
Psalm 85:6
Will You not Yourself revive us again, That Your people may rejoice in You?
Psalm 35:23
Stir up Yourself, and awake to my right And to my cause, my God and my Lord
Photo by Nelson Santos Jr on Unsplash