Where is World of Gervase?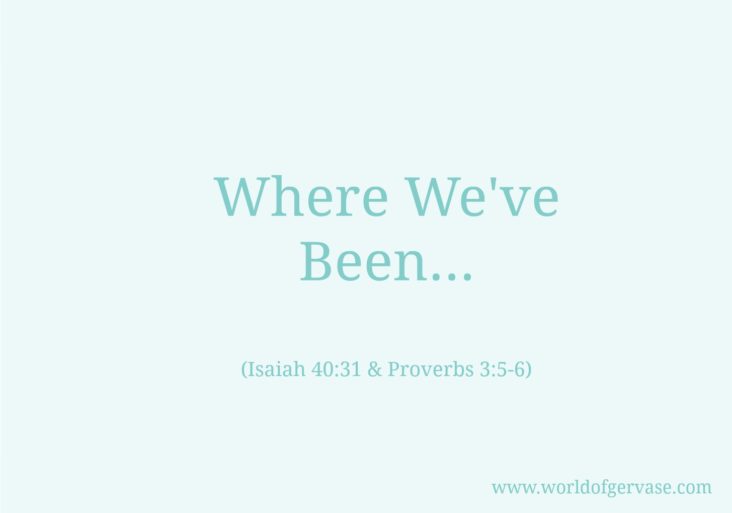 It's the end of February and you might be wondering where have we been. Since the introduction podcast, we have not published any more content. I would like to explain a bit. So, I'm going to go back a bit.
Last year was a year of transition for us. It was also a year to say good-bye to people and seasons in our life. We could sense God pulling us in a new direction. Part of that transition was me clearing my schedule of counseling clients and referring new clients that were referred to me. We were very excited on what was in store for us in this new season of life.
We began to buy equipment and created our podcasting studio. We learned what we needed to get things up and running, while we also had intros and outros made. We could see the vision laid out before us as to what it is supposed to look like. However, while it was working out, it wasn't working out. The material that we want to present in the manner we feel it is to be presented was just not coming together. The interviews and discussions we wanted to be part of the podcast shows were not lining up.
The end of the year brought new challenges when my mom had an incident that was pretty traumatic for us all. She was tripped while we were in Disney World and fell head first into the asphalt. We all thought she was instantly killed as she laid there unconscious on the ground with a large bloody head wound. After a week or so after the incident, I noticed I was experiencing an incredibly amount of increased stress. I was also still having visual and audible flashbacks of her fall. These symptoms continued for many more weeks. Therefore, based on my training, I knew what was happening. While I began to address the post traumatic stress, the incident stirred some other past issues in me that needed to be dealt with.
January arrived and it was time to start releasing our podcasts and scheduled blogs.  Along with January's arrival,  I could feel the overwhelmingness of it all. There was so many areas pulling at me to do all these different "things." The ministry, World of Gervase, new tax season as being owners, home life, housework, homeschool, wanting to help at church, devotion time, take care of my mom and her appointments, our appointments, keep up the websites, help everyone else.  Something had to change.
Every year our church does a corporate fast in January. During this time, I know I need to be cut off from all social media. It's just too much of a distraction for me. As I entered into that time of fasting, I could hear God saying, "just stop, learn, and wait." So, I stepped away from trying to figure out the podcasting content and scheduling, I stepped away from World of Gervase, I stepped away from all those things that interfered with me hearing and seeking God's direction. I began to pray more, I began to read His word more, and I began to listen more. I could feel the Holy Spirit leading and guiding me through this whole process like never before. He was truly my Counselor and Teacher. There were things that I needed to address in life. There are also things that I felt called to in the past, but knew it was not the right timing. However, even though I don't know when,  I feel that time may be approaching. Therefore, I am doing the studying and becoming certified in the areas that are needed to allow that to happen when God says it's time. I don't want to share much information about what that new season will be or any details yet. Even though the fast has ended, I still feel I'm in the "stop, learn and wait" holding pattern. In addition to this being a time of learning, I also feel it is a time of healing.
While I am enjoying the process that God is doing in my life right now, it is also difficult in a way. I'm a doer, helper, encourager, multi-tasker…I want to be doing. Don't misunderstand, if given the chance to minister or to encourage one on one, then I will always do that. However, I know in this moment in this season, I have to continue in the holding pattern. God is at work and lining up and organizing what needs to be in place for our next season. As our pastor preached about yesterday on the providence of God at work in each of our lives. I know that is what is happening now. I get very excited to just think about what is all taking place to just allow Phillip and myself to have that next godly season of ministry in our lives.
PROVIDENCE /n./ -timely preparation for future eventualities.
So there you have it.  That's where we have been.  Waiting, learning, and listening to God's guidance in this season, so a new season can be birthed one day.  While I don't know the future of World of Gervase, I will freely share from time to time any updates as I see fit.  As for now, I continue to pray about what God wants for World of Gervase.  As for Gervase Ministries, it will continue to be operational due to that is my covering for our counseling ministry.
Lastly, I just want to encourage those that maybe can relate to this.  You may be in a holding pattern.  I encourage you to be patient.  Follow the Holy Spirit's leading.  This is your time to allow God to teach, mold, and counsel you.  Allow this time to transform you and your relationship with Jesus.
For those that feel things are just not lining up, maybe the timing is off, maybe it's what you want and not God.  I encourage you to step back briefly and seek God and truly ask Him what is His will in regards to the areas of your life.  Is this your will or God's will?
For those dealing with one or both of those scenarios, I just want to say do not let others' voices drown out the voice of God. Those voices may be speaking great things, while others may speak nothing but discouragement.  Whether those voices speak good or bad words, the only true path that will lead to ultimate fulfillment is following the commandments given by God.  We can not get caught up in the rat race of what everyone else is doing.  Get caught up in God and He will show you the path He has providentially made just for you!